American Express Centurion Lounge Los Angeles Review
American Express recently opened its newest lounge in the city of Los Angeles
. It's the biggest Centurion lounge in the world, with 14,000 square feet of space, and can easily accommodate around 530 guests. Housed in the world's 4th busiest airport, it can be accessed by American Express Platinum Card and Centurion Card holders. But does it live up to the hype? Let's find out.
Access to the American Express Centurion Lounge
The lounge is open every day of the week from 6:30 am to 11.00 pm. To enter the lounge, you must have either the American Express Platinum or Business Platinum Card, which charges $695 yearly, or the Centurion card. Centurion cardholders can bring along two guests, and infants under two years old are not counted as additional guests.
Individuals with other variants of the Platinum card can also access the lounge. These cardholders can bring along three authorized guests on their Personal Platinum card with an annual fee of $175. However, keep in mind that Platinum's complimentary additional Gold Card holders cannot enter.
One more thing to remember is that Platinum cardholders can only enter the lounge for three hours before their flight takes off. Access is granted for connecting flights, but only if you already have your onward boarding pass in hand.
Delta SkyMiles Reserve American Express Card members are given access only when flying with Delta and using a ticket bought using any American Express card. As a Delta card holder, you can bring along two other individuals at an additional charge of $50.
What else is in this post?
Where is The American Express Centurion Lounge located?
The American Express Centurion Lounge is located at the center of the Los Angeles Airport at the Tom Bradley International Terminal (TBIT). For international passengers, access is super easy. After clearing security, directions are pretty clear, with blue branding pointing the way to your immediate left, before you take the bridge to the Great Hall.
The lounge is then accessed via the American Express branded elevator, shuttling you from level 4 to level 2 to enter the lounge.
Domestic passengers have a slightly more challenging time accessing the lounge. After security, those in terminals 4 - 8 will need to take the terminal connector walkway to TBIT, and from terminals 2 and 3 via the airside bus. Get off the bus at Gate 146 in TBIT. There is no airside access from terminal 1. Allow around five to eight minutes of walking time between each terminal.
Design of the American Express Centurion Lounge
One of the best things about the American Express Centurion Lounge is its layout. Despite its vast size, the smart planning that went into this facility has given it plenty of comfy nooks and private spaces, not to mention a very tasteful decor. The facilities are well planned, with power outlets all over the place, making it easy to get some work done or just relax before your flight.
As you enter, you'll see an eye-catching custom mural painted by Los Angeles-based muralist Ellierex. The calm tones of blue and white give you a sense of tranquility; a very pleasant way to start your lounge experience.
To the left from here, you'll find a cosy space with a few leather chairs and American Express's watchdog logo.
Behind this, you'll find another room that is a dedicated relaxing area. Although there are quite a few seats here, the juxtaposed position of the furniture gives guests a sense of privacy.
Next to this space, you'll find a stunning beer and wine bar, which continues the blues and whites theme introduced by the Ellerix mural at the entrance. Mosaic tiled walls and blue lightshades add to the ambiance. The well-stocked bar is complemented with some high barstools - great for hanging out for a while.
Many travelers will be looking to use their lounge time productively, and the American Express Centurion Lounge has catered for them too. Past the beer and wine bar you'll find an office-like space, crowned with an eight-seater conference table and with individual workstations around the edge.
The private workspaces are surrounded by noise-dampening walls, to cut down the ambient distractions and allow for focused productivity.
If you've had enough of work for one day, the American Express Centurion Lounge offers a wonderful space for relaxing and reviving. Its two wellness areas are the Sunrise and Moonrise rooms, a new addition since the last revamp of the LAX facility. These are designed to help timezone hopping travelers get some sense of normality, regardless of the time of day outside.
As the names might suggest, the Sunrise room is a daylight space, and the Moonrise room replicates night. The walls in the Sunrise room are brightly lit, giving a sense of daylight, helping passengers readjust after a long trip. In the Moonrise room, passengers will find a dark, cosy space, with a starlight ceiling and comfortable loungers.
Also in this area is a multipurpose family space, as well as the Exhale spa. The spa offers massages and nail treatments, as well as wellness services including light therapy.
All well and good, we hear you say, but where's the food? Fear not, because although we've explored the lounge to the left of the entrance, a whole world of yummy awaits you on the right! Heading back to the mural and continuing on, you'll arrive at the main buffet area. This is well stocked with help-yourself goodies appropriate for the time of day. A few cafe-style tables and chairs are available for you to sit and snack.
To the left of the buffet is further seating, complemented by bright wallpaper and elegant lighting. Here, there are plenty of options for sitting, from banquette-style cushioned seating on the walls to leather couches in the center. It wasn't too busy when we visited, but knowing there is plenty of capacity for when the lounge gets busy is reassuring.
The leafy, bright wallpaper is a nice addition here, because one of the least attractive features of this lounge is the lack of exterior views. Don't expect to do any planespotting at this location, because none of the rooms have outside views - apart from the bar and main dining room, which only look out onto the main halls of the terminal.
One of our favorite spaces at the American Express Centurion Lounge in Los Angeles is the main bar. Here, you'll find various seating options, from bar stool-type seats along the wall to tables and chairs for dining. The crowning glory of the bar is the blue backdrop behind the serving area,, complete with an illuminated centurion logo.
Although you can't see outside from here, the large windows and vaulted ceiling add to a sense of space and openness. At certain times of the day, there's even a touch of natural sunlight streaming in from the glass ceilings of TBIT. This tends to be the busiest (and noisiest) space in the lounge, but if you're up for a few beers and a chat with your friends, this is certainly the place to be.
Overall, the design and layout of the lounge is such that it can accommodate a huge number of guests without ever feeling crowded. The many different spaces mean you can always find a quiet corner, and despite being completely interior-built, it doesn't feel claustrophobic.
Amenities at the American Express Centurion Lounge at LAX
You can't ask for much more than what is on offer at the American Express Centurion Lounge at Los Angeles. From the relaxation of the Moonrise room to the very good WiFi and working spaces, no matter your goal for your time in the lounge, it caters to your needs.
We particularly liked the emphasis on wellness, which is delivered by the two new rooms as well as the spa. There's a shower available too, so if you need a quick freshen-up, you can. And recognizing that not all its guests are grown-ups, AMEX's addition of a family space is a nice touch for those traveling with small people too.
Catering at the American Express Centurion Lounge in Los Angeles Airport
One thing we will say about the American Express Centurion Lounge at LAX is - arrive hungry. The facility has some wonderful offerings in the catering department, with a menu created by a local chef. In this case, Nancy Silverton is the brains behind the menu, and the focus is on fresh, local and artisanal ingredients.
The buffet offers a range of cold salads as well as hot dishes, catering to various dietary needs and requirements. When we visited, there was a delicious creamy chicken and mushroom dish on offer, with wilted tenderstem broccoli and roasted sweet potatoes to accompany. For vegetarians, the cauliflower curry looked divine.
Drinks-wise, you won't be disappointed either. The bar offerings are spearheaded by industry heavyweight Jim Meehan from 'Please Don't Tell' in New York City. In fact, if you know where to look, you'll find a prohibition-era style speakeasy cocktail bar hidden away in the lounge - no password required to enter! Here, Meehan has created New York classic cocktails with a travel-inspired vibe, rotating the menu throughout the year to ensure there's always something new to try.
For wine aficionados, the selection won't disappoint. Wine director for the lounge is Anthony Giglio, a well-known sommelier. Expect Californian merlots and chardonnays alongside prosecco and sparkling rose from Italy.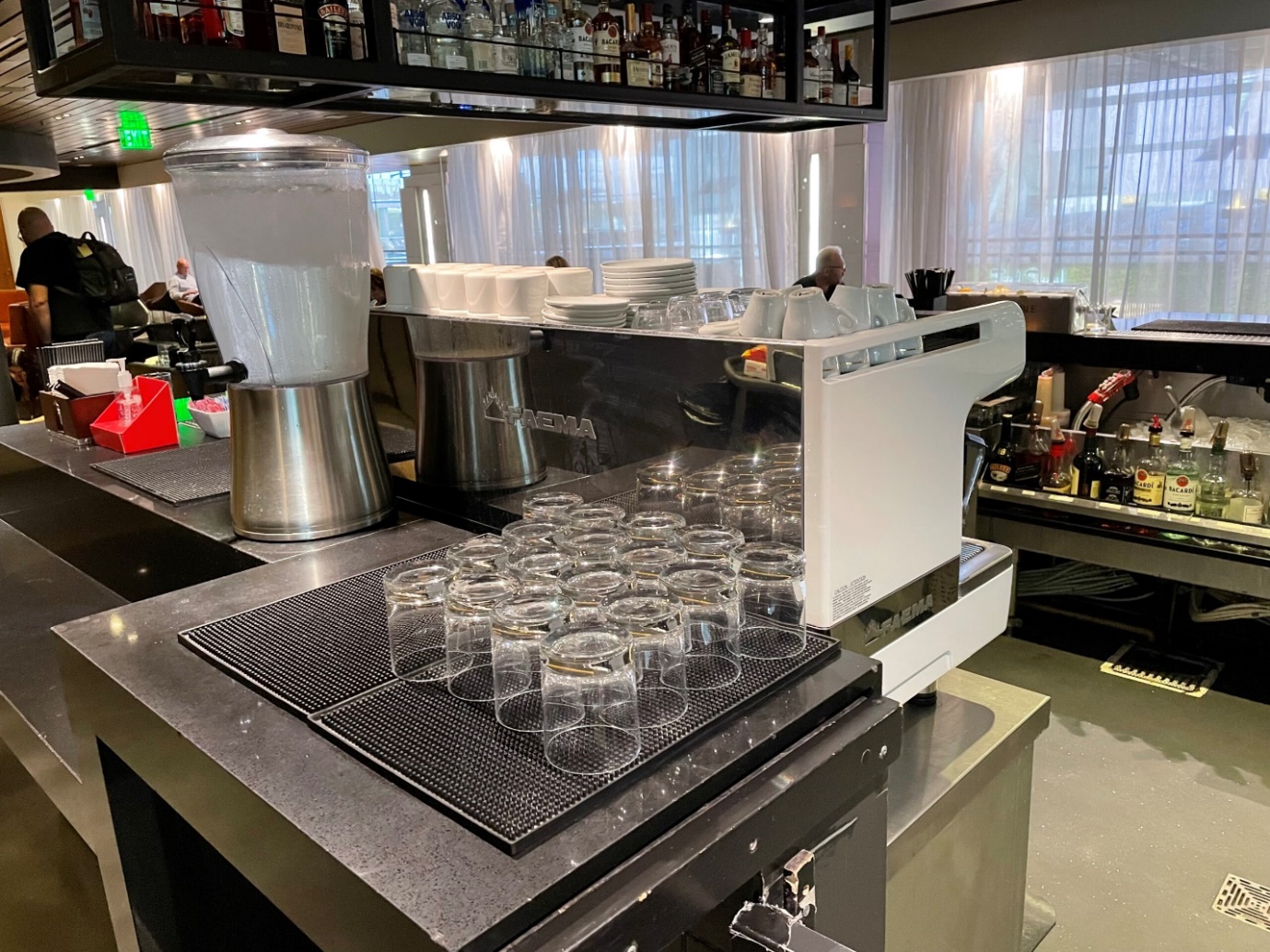 If you're not into the hard stuff, the coffee is very good too.Amex sources its espresso from Los Angeles-based City Bean Roasters, and offers it at various refreshment kiosks throughout the lounge, complete with Franke coffee machines.
Overall impressions of the American Express Centurion Lounge at LAX
This American Express Centurion Lounge is without doubt one of their best. It's a great space to take a break from the hustle and bustle of the terminal, and we'd happily have spent another three hours or more there, if we could.
Those who have the required prerequisites to access the lounge should make it a regular stop. The lounge is committed to rotating its menus on a seasonal basis, so you'll never get bored with the food and drink on offer. It's also a super space for working, if you're on a business trip, and for having fun if you're not.
Some frequently asked questions about the American Express Centurion Lounge at LAX
What are The Centurion Lounge house rules?
Here are a few rules that are to be followed by each guest.


Alcoholic beverages won't be served to guests under 21 years old or to any individual who seems to be inebriated.


Outside food and cocktails may not be brought into or taken away from the premises.


Smoking, chewing tobacco, smokeless tobacco, and electronic cigarette use is prohibited.


While visiting The Amex Lounge, all visitors should wear proper clothing for a family climate.


Carrier, air terminals, and industry representatives are not allowed to enter while in their duty attire or organization/air terminal ID identifications.


Can I bring my pet along with me to the lounge?
Amex allows LAX passengers to bring along pets and emotional support animals; however, they are to be kept within their cages during their stay in the lounge. Likewise, these pets are not to be placed on furniture or brought into cafeterias, bars or buffets.
All pets should be friendly, respectful, and under the control of their owner. Pets that bark or snarl, nibble, or display aggression could be removed from the lounge.
Can I bring my child into the lounge?
Yes. Children under two are free of charge, providing the adult has a 'lap infant' boarding pass or proof of age.
Can I purchase access if I am not already eligible?
At present, access is only available to Platinum Card Members, Delta SkyMiles® Reserve Card Members, Centurion Members, and eligible guests. No day passes are on sale.