Cruising Through Paradise: The 5 Best Road Trips in Bali
Cruising Through Paradise: The 5 Best Road Trips in Bali - Discover Bali's Dramatic Coastlines and Beaches
One of the top reasons travelers flock to Bali is for the island's spectacular beaches and coastlines. As you explore Bali by scooter or car, you'll have the chance to discover secluded coves, surf breaks, seaside temples, and more.
Bali's beaches come in an array of shapes and sizes. On the west coast you'll find long stretches of golden sand framed by palm trees, while the east coast is home to tranquil black sand beaches tucked beneath soaring cliffs. The south boasts party beaches like Kuta and Legian, while the north offers quieter shores where you can escape the crowds.
No road trip is complete without a visit to Padang Padang Beach on the Bukit Peninsula. This iconic beach has served as a backdrop for films like Eat Pray Love. It's framed by jungle-covered limestone cliffs with a pathway leading down to the sand. Come early to stake out a spot and stay for sunset when the waves light up in fiery hues.
Further up the coast, Dreamland Beach is another must-see. Strong rip currents make the swimming here dangerous so it's best to admire the shoreline from the cliffside cafe overlooking the bay. Continue following the clifftop road north to Pandawa Beach, where you can descend a staircase carved into the rock face to reach a pristine and secluded beach.
Bali's east coast is home to a string of serene black sand beaches speckled with fishing boats bringing in the daily catch. Drive the roads hugging the coastline from Candi Dasa to Tulamben to experience this sleepy side of the island. Stop to snap photos of gleaming black sand against the blue sea and pay a visit to Candidasa Lotus Lagoon, a tranquil mangrove-fringed beach ideal for swimming.
No road trip is complete without stopping at a few oceanside temples. Pura Luhur Uluwatu perches precipitously atop cliffs on the southwestern tip of the Bukit Peninsula. Time your visit for sunset when you can watch the sky transform into a painting while listening to chanting from the temple. Pura Tanah Lot on the west coast is another iconic seaside temple, appearing to float on a rock just offshore.
One mistake travelers often make is trying to pack too many beach stops into one day. Instead, take your time exploring one or two beaches so you can fully experience swimming, sunbathing, beachcombing, and watching the sunset. Plot your road trip so you'll be staying in hotels or villas near the beaches you want to spend more time enjoying.
Pack plenty of snacks, water, and sun protection so you can comfortably spend hours puttering around the sand. And be sure to wear aqua shoes for wading into many of Bali's beaches where sharp coral lies just offshore. Finding parking can be tricky at popular beaches, so arrive early to snag a spot. Otherwise you may need to walk a bit from public parking areas.
What else is in this post?
Cruising Through Paradise: The 5 Best Road Trips in Bali - Wind Through Rice Terraces and Local Villages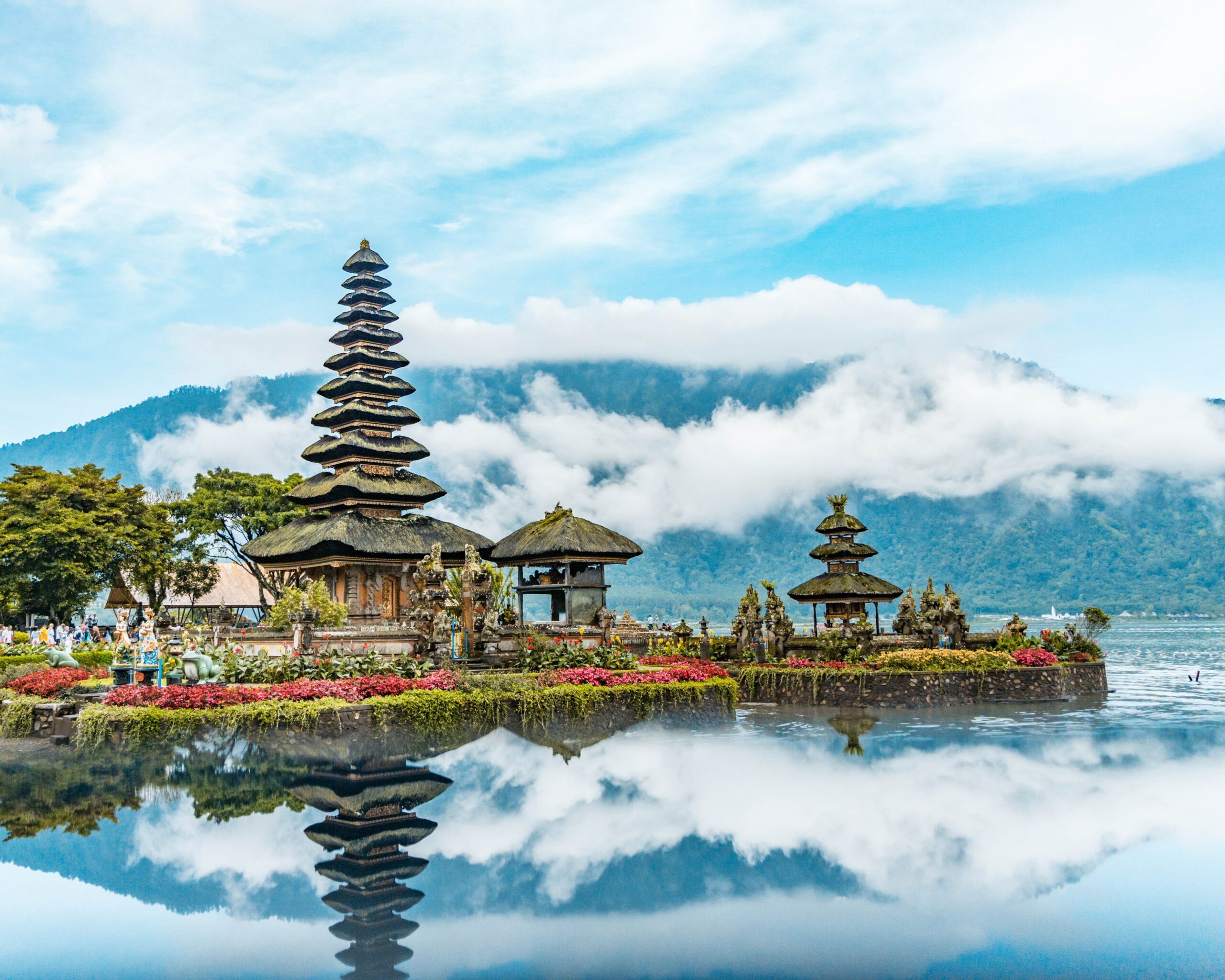 Beyond beaches, Bali's landscape is dotted with cascading rice terraces that make for an unforgettable backdrop as you road trip through the countryside. The tiered paddies step down hillsides like giant green stairs, rippling in the breeze. Exploring these landscapes by scooter or car let's you immerse yourself in the agricultural heart of the island.
Rice terraces cover expansive regions across central Bali. You'll get a taste of these vistas as you drive north from Ubud through Tegallalang. Stop roadside and wander the narrow pathways between paddies. Chat with farmers transplanting sprouts and watch water flow from terrace to terrace. The Tegenungan Waterfall lies just a 10-minute walk from the road, tumbling down rock faces awash in lush jungle.
Further north near Pupuan, sculpted rice terraces stretch as far as the eye can see. The area surrounding Lake Buyan and Tamblingan is especially breathtaking. "It was like entering a painting, with giant green steps cascading down the mountains to the shimmering lakes below," said Sophia L. who explored the region. "We were speechless at the beauty surrounding us."
West Bali National Park protects additional rice terraces interspersed between dense bamboo groves and soaring peaks. Hike through the fields and forests with a guide to experience the diverse ecosystems sheltering native wildlife. "Trekking the national park was the highlight of our trip," explained Alex K. "We felt so far away from everything, surrounded only by nature."
Beyond vistas, rice terraces provide opportunities to learn about Balinese culture and agriculture. Many companies offer educational tours of working rice paddies, where you can plant rice, use traditional tools like a wooden plow pulled by cows, and enjoy a village lunch. "I loved getting my hands dirty and helping the local farmers," remarked Anne J.
Adding cultural activities like cooking classes, dance lessons, and village tours brings the experience full circle. "We were able to learn about how reliant Balinese life and culture is on rice," said James T. "Experiencing the fields firsthand helped us understand the local way of life."
While rice terraces cover large swaths of the island, they are constantly under threat as fields are sold off for hotels and villas. Consider selecting tour companies that promote sustainability, so your explorations also help preserve the iconic landscapes. "Seeing the paddies disappearing year after year is heartbreaking," expressed Linda G. "We picked tour providers active in conservation efforts."
Cruising Through Paradise: The 5 Best Road Trips in Bali - Explore Volcanoes, Mountains, and Forests
While Bali is renowned for its beaches, the volcanic landscape of the interior beckons adventurers to discover actively simmering mountains, jungle-draped slopes, and sweeping vistas. Road tripping through these regions delivers an escape into the wild heart of the island.
"The moment we turned inland and headed into the highlands, it was like entering a whole different world," explained Ben S. "Lush forests sprang up around us and we were surrounded by volcanic peaks stretching up through the clouds."
At the heart of Bali rises Mount Batur, an active volcano with a deep crater lake filling its caldera. Sunrise treks lead you up the mountain as the sky ignites in pinks and oranges. "Watching the sun crest the rim and illuminate the crater lake was absolutely magical," shared Alicia T. "It was an unforgettable start to our day."
Nearby Mount Agung is Bali's tallest peak, last erupting as recently as 2017. While you can't hike directly on Agung, scenic viewpoints like Penelokan let you gaze up at its imposing summit. "We could see Agung towering over the landscape, trails of smoke still rising from its core," said James R.
North of Agung lies Bali's virgin rainforest. Take roads through dense jungle to sights like Sekumpul Waterfall where cascades plummet down fern-draped cliffs into crystalline pools below. "The raw power of the falls stole our breath away," described Sophia D. "We hopped right into the cold water to rejuvenate after our hike."
Bali Barat National Park is another prime place to go off-roading through forests. Mangroves line the shore, while further inland massive banyan trees drape their vines down like Rapunzel's hair. "We hardly saw another soul as we drove and hiked the trails," remarked Alex T. "Spotting wild Bali starlings in the canopy was a real treat."
Heading west brings you to jungle shrouding twin lakes Buyan and Tamblingan. Formed in ancient volcanic craters, the lakes' still waters reflect the surrounding forest. "It was so peaceful hiking through the woods along the shore," explained Anne J. "With the lake glimmering through the trees, we really felt one with nature."
South of the lakes, rolling mountains blanketed in terraced rice fields and tiny villages await. "The remote mountain roads winding between paddies were a joy to explore by scooter," described Linda C. "The vistas were never-ending, making us want to stop for photos around every bend."
Venturing off main roads lets you access Bali's wild heart where few tourists go. Locals will greet you with genuine warmth in remote villages. "We were invited into a home to share lunch with a local family who wanted to meet travelers," shared James S. "It was the most heartwarming experience."
Your guidebook likely won't mention the tucked-away waterfalls, hidden temples, and scenic overlooks awaiting discovery on backroads through forests and mountains. Let your intuition lead you on detours through villages and down dirt tracks. "Some of our favorite moments were completely unplanned stops we made just following our instincts," said Ben T. "That's where we encountered true magic."
Cruising Through Paradise: The 5 Best Road Trips in Bali - Stop at Temples and Sacred Sites Along the Way
Beyond beaches and villages, Bali's spiritual heart pulses through a network of temples and sacred sites. Intricately carved shrines honor the gods and goddesses said to inhabit the island's rivers, trees, mountains and more. Stopping to experience these places of worship while road tripping immerses you in the religious devotion so integral to Balinese life.
The architectural details of Balinese temples alone are worth the visit. Tiered, intricately carved shrines rise up, often surrounded by walls enclosing courtyards. Statues of mythical creatures stand guard while fragrant flowers and fruit offerings beckon the gods.
While Pura Besakih on the slopes of Mount Agung is regarded as Bali's most sacred temple, dozens of other exquisite sites await discovery. Pura Tirta Empul's shrines and bathing pools draw faithful seeking purification in the holy spring water. Go early when the complex is less crowded so you can quietly observe rituals.
Pura Ulun Danu Bratan, dramatically situated on lakeshore terraces, is another must-see. Its towering gates frame the cone of Gunung Catur that rises behind. Time your visit for sunrise when mist swirls around the temple.
Lesser-known sanctuaries like Pura Dalem show a darker side, dedicated to the god of death. The elaborate carvings are slightly creepier here. Meanwhile Goa Lawah's temple contains a cave filled with thousands of fruit bats.
In Bali, the spiritual and secular intermingle in offerings placed everywhere from shrines to sidewalks. Intricate baskets woven from palm leaves and filled with flowers, rice, and incense can be found outside homes, shops, and restaurants.
"It became like a game for us to spot the offerings all around town and try to identify the different contents," explained Ben R. "We loved guessing which god they were for based on the items included."
You may be invited to join in rituals like blessing offerings. While not obligatory, participating can forge connections. "The women were so delighted to teach me how to make an offering," recalled Alicia B. "I kept that flower basket proudly displayed in my hotel room."
Visiting temples in Bali provides glimpses into the rich spirituality woven into everyday life. "What stuck with me most was seeing how religion here isn't confined to once-a-week services," reflected James R. "It's an ongoing participation that seemed to fill locals with a special sense of meaning and community."
Cruising Through Paradise: The 5 Best Road Trips in Bali - Don't Miss Ubud's Arts and Crafts Communities
Beyond scenic vistas, Bali lures artists and artisans drawn to the rich creative culture. Nowhere embodies this more than Ubud, whose galleries, studios, and craft markets could keep you occupied for days. Venture into this hub of Hindu arts and immerse yourself in the creative spirit that Pulled legends like Walter Spies to the island nearly a century ago.
"From museums to craft shops, you can't walk down a street in Ubud without being surrounded by art," explained Anne J. "My favorite was poking through little galleries to discover up-and-coming local talent." The Museum Puri Lukisan contains one of the finest collections of Balinese art, while the ARMA highlights works by foreign artists who found inspiration here. Don't miss Nyoman Gunarsa Museum's classical Kamasan-style paintings.
Beyond museums, Ubud continually inspires new generations of artists across mediums. Stop by studios to chat with painters as they bring canvases to life, while metalworkers hand-tap intricate sculptures. Many larger shops have workshops where you can watch ceramicists throw pots and woodcarvers coax forms from gnarled pieces of driftwood.
"Meeting the artists and watching them work gave me such an appreciation for the care and skill that goes into each piece," recounted Sophia D. "I went home with a hand-carved salad bowl and ceramic vase, both made right before my eyes."
From painting and sculpture to weaving and beadwork, talented artisans transform raw materials into wearable art. Linda G. advised, "Leave room in your suitcase for the gorgeous textiles you'll find. I still wear the silk shirt painted with a Balinese scene that I had custom-made in a small shop."
The twice-monthly Ubud Market presents a bounty of handicrafts, clothing, homewares, and art. "It was sensory overload wandering through the maze of stalls displaying everything imaginable," described Ben R. "I could've spent hours haggling for each item on my wish list."
Beyond browsing galleries and markets, get hands-on with lessons in Balinese arts. Try woodcarving, offering-making, dance, music, and more. "Learning to play the gamelan percussion instruments with local musicians was fabulous," said Alicia T. "Now when I hear gamelan I'm transported right back to Bali."
Cruising Through Paradise: The 5 Best Road Trips in Bali - Essential Tips for Renting Scooters in Bali
Zipping around Bali on a scooter provides the freedom to explore hidden beaches, winding backroads, and tucked-away temples at your own pace. But before hopping on a bike, keep these essential tips in mind for a safe and stress-free rental experience.
First, thoroughly check over the scooter before leaving the rental agency. Give the tires a kick to check pressure, test the brakes, inspect any damage, and ensure the headlight, brake lights, and turn signals are working properly. It's much easier to swap out a faulty bike at the shop than being stuck on the road with issues.
Also take the scooter for a quick test drive outside the agency to ensure proper acceleration, braking, and handling. "We realized the brakes were soft on our first bike, so the rental shop quickly replaced it with another that felt much safer," recounted Linda G.
When evaluating rental agencies, go with established companies that include proper insurance in the cost, even if it's a bit pricier. "We cheaped out on insurance from a roadside rental stall and regretted it when the scooter broke down miles from town," admitted James S.
Ask if the company offers round the clock assistance in case any problems arise on the road. "Knowing we could call the rental agency for help gave peace of mind exploring remote areas," explained Anne J.
Only rent automatic scooters unless you have experience handling manual clutches and shifting. The chaotic traffic makes Bali roads no place for learning. And resist renting bigger bikes that are more difficult for beginners to handle. "We felt much safer sticking to an automatic scooter instead of a manual motorcycle," said Ben R.
Bali's heat and humidity can quickly lead to dehydration so pack plenty of bottled water and take frequent breaks in the shade. Filling up the bike's gas tank is cheap but distances between stations in remote areas can be far. "We avoided getting stranded by keeping the tank topped off whenever we passed a gas station," remarked James R.
Scout your route ahead of time and download maps for offline use when cell service is spotty. But also allow flexibility for following signs to unplanned discoveries. "Having a GPS on our phone was great, but sometimes we just let the beautiful backroads lead us wherever," described Alicia T.
Never drive impaired after too many Bintangs on the beach. And stick to half the speed limit or slower—the rápid pace locals drive at takes years to master. "Drivers in Bali tend to be aggressive, so play it safe by driving cautiously," said Sophia D.
While scenic routes can provide extraordinary memories, steer clear of perilous mountain roads if you're an inexperienced rider. "We stuck to intermediate terrain after reading about accidents on steep highland roads," remarked Alex T.
Most importantly, alway wear a helmet. " Locals rarely use them but we felt it was foolish to risk going bareheaded," explained Linda C. Save lives by packing a helmet on your road trip and simply finesse your hair after!
Cruising Through Paradise: The 5 Best Road Trips in Bali - Packing List for a Bali Road Trip
Exploring Bali by road requires careful packing to handle the island's dramatic terrain and fickle weather. "We made the mistake of under-packing our first trip and regretted it," admitted Anne S. "After getting caught in downpours unprepared, we learned to come ready for anything."
First and foremost, pack lightweight, breathable clothing. Temperatures stay steamy year-round, although weather shifts seasonally between sunny days and stormy monsoons. Opt for light, loose shirts and dresses you can layer. "Sweating through outfits got old fast," said Linda R. "We were so grateful to have versatile mix-and-match options."
Bring clothing you can wear modestly when visiting temples. Sarongs purchased on the island wrap over shorts or skirts. "Entrance requires legs and shoulders covered, so we always kept spare sarongs in the car," explained Alicia B.
Locals pride themselves on appearance, so leave ratty backpacker gear behind. "We felt sloppy next to Balinese dressed so elegantly," confessed James T. "It's easy to find inexpensive, lightweight fabrics there that blend in better."
Stash a compact rain jacket for sudden downpours. "We learned to keep rain gear folded under our seats after getting caught in a storm at Besakih Temple," recalled Ben S. Breathable trekking sandals work best for both temples and trails. "Flip flops were useless hiking muddy jungle trails," chuckled Sophia L.
Pack swimwear to dive into the island's famed beaches and pools. Sarongs also substitute as cover-ups when needed. "I lived in my bikini, shorts, and sarongs all week," said Alicia T. "It made transitions easy from beach to temple and back again."
Carry a small backpack for essentials like sunscreen, bug spray, medications, phone, and wallet. "We kept supplies in my daypack so they were always on hand," explained Ben R. Collapsible water bottles and refillable water filters let you easily stay hydrated in the tropical heat and humidity. "My water bottle was constantly in use," Sophia D. remarked. "Refilling often kept me feeling healthy in the heat."
Pack photocopies of your passport, driver's license, and insurance cards in case the originals are lost or stolen. "I carried spare ID copies on me after hearing about a friend's passport being swiped at the beach," cautioned James R.
Bring car chargers for phones and any electronics. Portable charging packs come in handy when electricity is spotty. "Our splitter let multiple devices charge at once from the car," explained Anne J.
Finally, carry snacks like fresh fruit, roasted nuts, and granola bars purchased at local markets in case restaurants are scarce in rural regions. "There were times we got hungry with nowhere to stop for miles," recalled James S. "Having healthy snacks on hand saved us."
Cruising Through Paradise: The 5 Best Road Trips in Bali - Sample Bali Road Trip Itineraries and Routes
With endless options for exploring Bali by road, planning potential routes can feel overwhelming at first. Talking with fellow travelers and locals gives insider inspiration to craft an unforgettable island adventure.
Many travelers focus their first trip on Bali's spectacular beaches, spiritual temples, and the arts mecca of Ubud. "For a taster of top highlights, we drove from Seminyak to Ubud, then down to the Bukit Peninsula's cliffs and dreamy beaches," recounted Anne S.
Starting in lively Seminyak, spend your first days lazing on the golden shores of Petitenget and eating at beach clubs. When you've had your fill, head inland to Ubud to experience the cultural heart of Bali. "The dancing, carving, temples, and terraced rice paddies surrounding Ubud blew us away," said Linda C. "We'd budget at least 3 days to take it all in."
From Ubud, make your way south to explorer emerald rice terraces around Jatiluwih before continuing to Seririt and Pemuteran where an underwater sculpture garden and stellar coral reef await discovery by snorkelers.
Next make your way around the island's western tip to the cliffs and dreamy beaches of the Bukit Peninsula. Start at the iconic seaside temple Pura Luhur Uluwatu before enjoying sunset seafood dinners overlooking the waves at Jimbaran Bay.
"Watching the sky shift in hues as the glowing sun sank below the horizon with our toes in the sand was pure magic," described Sophia D. Spend your final days lounging at Padang Padang, Dreamland, and Pandawa beaches tucked beneath jungle-cloaked cliffs.
For those with more time, a clockwise or counter-clockwise loop around the entire island allows you to experience even more. James S. advised to focus either on northern or southern sections.
In two weeks you can experience most of the island, while three weeks gives time for deeper immersion. "It took us 22 days to circle Bali at a leisurely place, trekking mountains, diving reefs, touring villages, and soaking up gorgeous sites," said Ben T. "It was the perfect amount to balance adventures with relaxation."